'Embracing the Future': design and technology at Parkside adopts this statement from the moment the children enter the facilities. The purpose-built design and technology workshop is housed within the old Barn next to the inspiring and futuristic STEM-IT digital learning area.
At Parkside, we believe in providing opportunities for all children to develop whatever their capabilities. In design and technology, we aim to combine their design and making skills with knowledge and understanding allowing each individual to create quality, functioning, fun, products.
Our projects focus on developing practical skills, which are essential for everyday life, in a fun and exciting way using a variety of materials and equipment. Design and technology at Parkside allows the boys to design and construct 'something' for 'somebody' for 'some purpose'. It won't always be a great success, sometimes it may even be a great disaster but we can guarantee it will be great fun!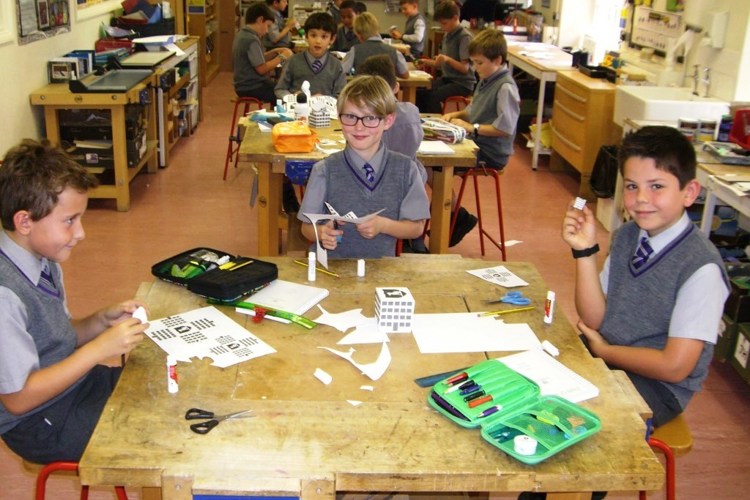 The workshop offers plastics moulding and pewter casting alongside traditional woodworking tools and machinery. Progressing upwards through the school, boys are given increasing scope to design and manufacture their own designs; with the challenge of problem solving along the way.
The use of materials, equipment and skills gradually advance throughout the Prep School, which enables the boys to work more independently and to realise more complex designs with their practical work. Over recent years the boys have created a variety of products including LED desk lights, themed mechanical toys, acrylic clocks, personalised race cars, robots and desk organisers.
For boys in Years 7 & 8, we introduce CAD/CAM as a valuable experience linking into their senior schools. We use 2D design on computer and send the output to a Roland RotoCaMM MDX-40A machine, enabling us to manufacture small artefacts in wood and acrylic, singly or in batches. The addition of a 3D printer complements our repertoire giving us greater scope. There is a strong emphasis on computer-based design; easily achieved as the Barn workshop is adjacent to the Barn IT Suite, enabling both resources to be utilised in any one project.
Some senior schools offer scholarships in D&T, either as a stand-alone scholarship or as part of an all-round scholarship. Should boys be considering a scholarship in D&T, they will be expected to provide evidence of very high-quality work within school; normally from one or two of the final projects – and good independent evidence of an interest in the design world around them.
At Parkside, we understand that design and technology is an inspiring, rigorous and practical subject where pupils use imagination and creativity to solve real and relevant problems. They acquire a broad range of subject knowledge and draw upon disciplines such as maths, science, engineering and computing. The boys are given opportunities to become resourceful, innovative, enterprising and capable citizens. They develop essential skills such as resilience, teamwork and independence; skills that are highly valued in both their next phases of education and for future employment.
Page Gallery