Results!
At Parkside, we believe that every child has immense potential and our mission is to nurture their talents, inspire their curiosity and guide them towards a bright future. From the early years to the final stages of their education, we strive to create an environment where each milestone is recognised and celebrated.
Our aim is to nurture pupils to be the best version of themselves by the time they take their next steps in the educational journey: Destination Senior School. The 2023 Year 8 Leavers secured impressive offers when they were in Year 6. The following 2 years were spent preparing the pupils for the Common Entrance exams, leadership training, careers guidance and pastoral development. The final two years at Parkside are pivotal for pupils achieving their full potential and developing the character and determination to succeed. Through their ambition, tenacity and plenty of hard work, these boys left Parkside to go on to some impressive Senior School Destinations.
2023 Year 8 Senior School Destinations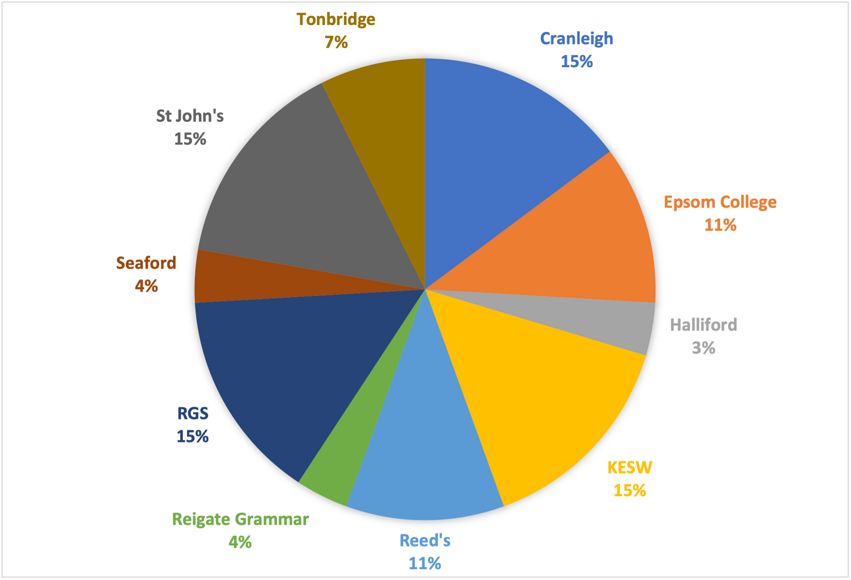 "[Tonbridge is] academically selective and Parkside boys are well prepared for the academic rigour here. Similarly, boys from Parkside easily transition to the depth and breadth of co-curricular pursuits at Tonbridge, including music, sport and the creative arts. The intellectual curiosity and enjoyment of these activities is nurtured at Parkside and flourishes at Tonbridge as the boys reach their teens."
James Priory, Headmaster, Tonbridge School
Pre-Test Programme
Parkside School's Year 5 Pre-test Programme is a carefully planned and detailed programme for boys entering Year 5, to help prepare them for their Senior School Pre-test in the Autumn term of Year 6.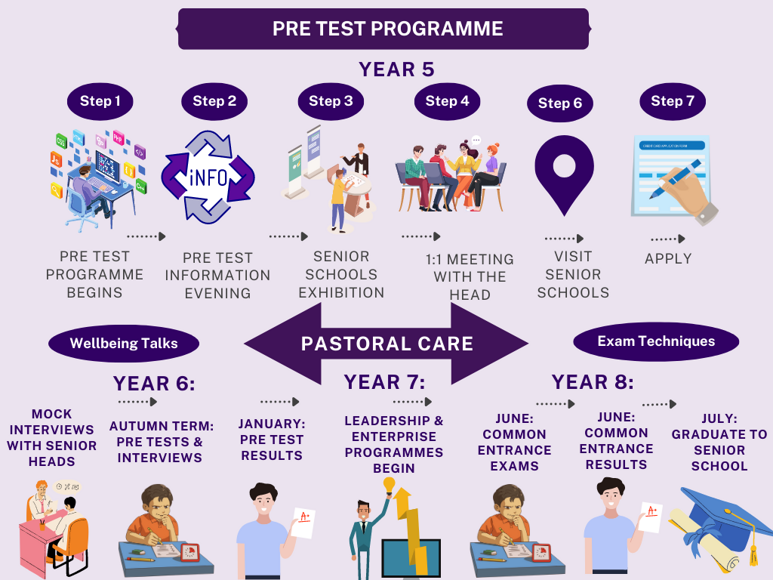 Parkside's Pre-test Programme starts as early as the Summer term of Year 4, where an individual learning profile is prepared. This ensures that, at the beginning of Year 5, assessments give crucial data analysis of each boy's ability, their strengths and weaknesses.
In Spring term of Year 5, a Pre-test Information Evening is followed by one-to-one meetings with the Head, who discusses each pupil's data and progress and suggests the best option senior school choices individually with families.
Extension and booster groups run throughout the year and into Year 6, running alongside exam preparation, culminating in mock interviews with members from a range of Senior School Leadership teams. Study skills workshops, strategies for memory retention and leadership days are all part of the programme, underpinning individually tailored and focussed preparation for the consolidation of key information, skills and techniques. Wellbeing workshops provide continued pastoral support for the boys and assist in managing stress levels.
As always, you provide such great insight and advice… I never fail to leave any meeting without being filled with confidence….. Ms Janssen's insight and advice have been invaluable."
Mrs O (Parkside Parent)
Every year, Parkside celebrates outstanding success with unconditional offers given to boys for Year 9 entry from senior schools such as Tonbridge, Charterhouse, Hampton, RGS and Reed's. Ultimately, we ensure that your son finds the right senior school for him personally which takes into account his abilities and his learning style, to ensure a continued transition in his educational journey into his next School.
"The confidence that he was able to show in the interview and going into assessments was down to the kindness and positivity and encouragement (and skill, obviously!) of all the teachers at Parkside."
Mrs C (Parkside Parent)
Congratulations to all of our boys on their personal goals, achievements and mountains they have climbed this year. By them showing grit, determination and hard work, we are proud of each and every one of them and look forward to welcoming our next cohort into the Pre Test Programme.
Year 8 Leavers' Destinations 2020 - 2023
2023

2022

2021

2020

School

School

School

School

Cranleigh

Bradfield*

ACS

ACS

Epsom College

Brighton College

Box Hill

Box Hill

Halliford

Charterhouse*

Bryanston

Charterhouse*

King Edward's Witley*

Cranleigh

Charterhouse

Cranleigh*

Reed's*

Culford

Downsend

Epsom College

Reigate Grammar*

Epsom

Epsom

Downsend

RGS Guildford

Halliford

Frensham

Halliford

Seaford

KESW*

Halliford

Hurst College

St John's

Reed's**

Harrow**

King Edward's Witley

Tonbridge

RGS

Guildford

King Edward's Witley

Lancing

Stowe

Reed's*

Reed's*

The Oratory

RGS Guildford*

St John's*

Wellington**

St John's

Wellington

Tonbridge*

*Scholarships awarded

Academic

Art

Drama

Sport

Swimming

*Scholarships awarded

Academic

All Round

Sports

**Commendation

Latin

Chemistry

Physics

*Scholarships

awarded

Academic

Drama

Sport

**Commendation

Academic

*Scholarships awarded:

All-Rounder
Eric Abbot Exhibition (Cricket)

Music

Drama

Sports

Academic
2020 - 2023 Offers
Over the past three years, we have invested an enormous amount into successfully assisting our pupils through their journey from Nursery to Pre Prep, Prep Prep to Prep and finally from Prep into their chosen Senior School.
We are immensely proud of each of the boys and recognise their individual talents and personalities. This is reflected in the range of Senior Schools destinations, where the boys continue their educational journey. The calibre of Senior Schools attended by Parkside Old Boys and what these schools say about them, is testament to their core values and quality of education enjoyed at Parkside.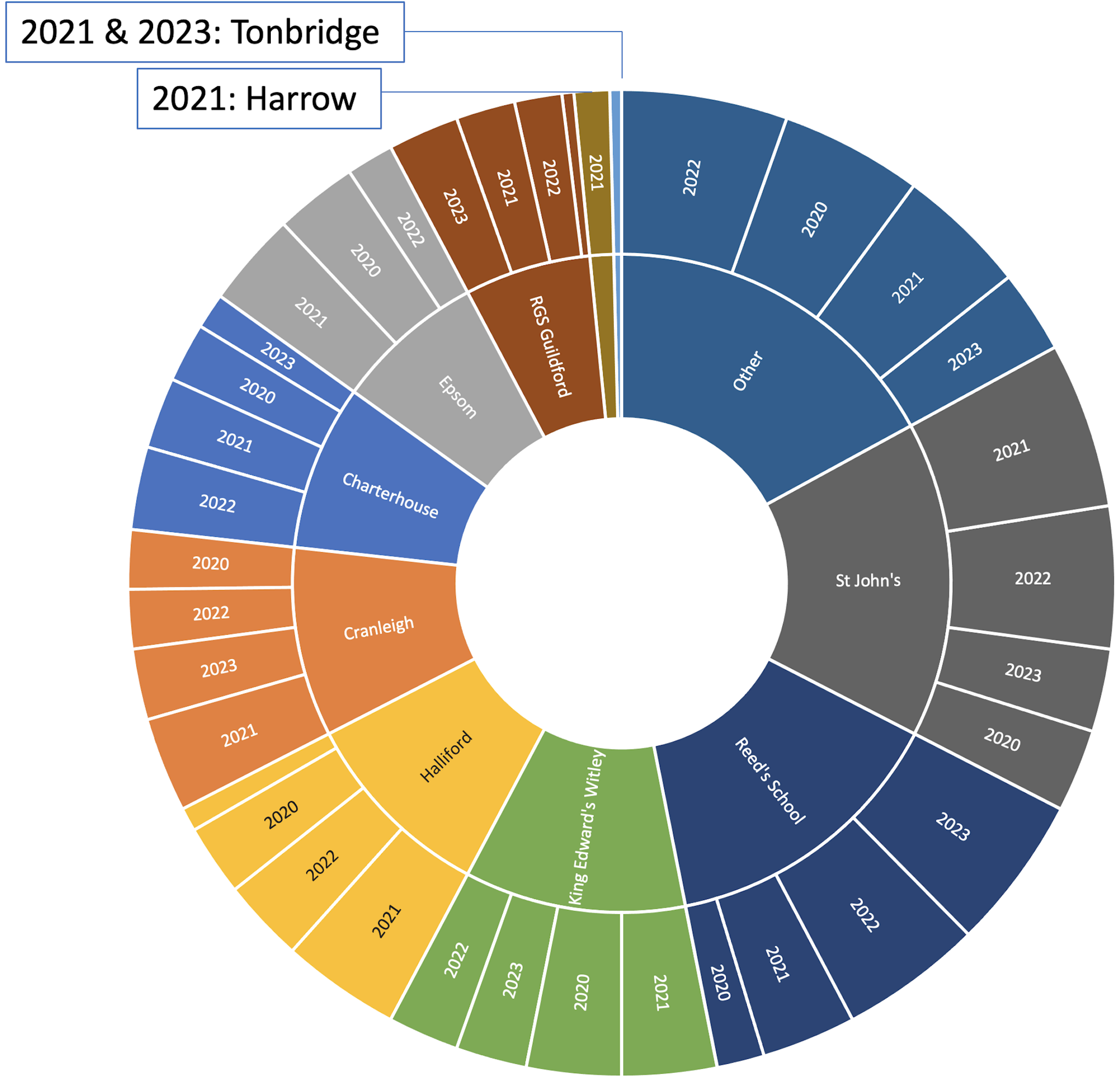 "Wellington College has been lucky to have had a steady stream of excellent Parkside boys join us over the recent years and we would be more than delighted to see many more! There is a real passion for learning evident in the boys that we have met but this passion appears to extend beyond the classroom too and hence aligns very closely for what we look for in Wellingtonians. We also note tremendous values in the Parkside boys we have met and this explains the wonderful atmosphere evident in the school whenever we visit." Mr James Dahl, Master of Wellington College