Facilities
Parkside's extensive facilities are what sets us apart from the rest and provides such a diverse environment for pupils to learn and develop during their journey here.
Set in 45 acres of beautiful Surrey countryside, on the banks of the River Mole, our School offers unlimited possibilities for teaching to be delivered in a variety of ways both inside and outside of the classroom.
Outside, there are 3 forest school areas within the grounds which are seasonal and are used in accordance with the weather and what is growing or living during certain times of the year. We are very excited about our plans for a brand new outdoor classroom which are currently in development.
"Boys are given lots of oxygen and opportunities to flourish, so the quiet pressure on academic improvement is not as noticeable as it might be."
The Good Schools Guide 2021
The grounds offer space for boys to be boys, and to have the freedom to express themselves. It creates a balance of wellbeing and academic rigour, and it is often used to enhance the learning experience. For example, our extensive orchards and vegetable patches are not only an exciting place to explore and learn, but they are also used to collect apples and produce for food tech lessons where they are transformed into delicious apple crumble, fruit salads and pasta sauces.
The River Mole provides not only a calming influence, but also science and forest school classrooms. The boys enjoy river walks in the summer along with kayaking and fishing. They are encouraged to take calculated risks and push their personal boundaries in order to boost their confidence and perseverance.
"The nearest thing to Swallows and Amazons within throwing distance of the M25, Parkside has a generosity of spirit and an enjoyment of all that can be done which is uplifting."
The Good Schools Guide 2021
The grounds also house four sports pitches which are primarily used for football, rugby and cricket, alongside our cricket nets and tennis courts. There are outdoor basketball courts, climbing and play areas, with separate and dedicated areas for Nursery, pre prep and prep to enjoy. The gym also provides equipment for gymnastics, softball and indoor basketball courts, as well as a stage where some performances are held.
Our 22m indoor swimming pool offers swimming lessons to all pupils from Nursery to Year 8 with specialist swim teachers who instruct pupils on perfecting this key life skill. Waterpolo is extremely popular with the boys and is taught as part of the sport curriculum. Swimming galas and competitions are also hosted in our pool, allowing healthy competition against other local schools.
Indoors, the Manor is home to the Pre Prep classrooms, Pre Prep Library, Office and Support Staff, as well as the magnificent Salon, where assemblies take place and achievements are celebrated. All pupils are served their lunch in the Servery, and they enjoy eating this whilst chatting amongst their friends and teachers. When the weather is fine, Parkside pupils love nothing more than grabbing a BBQ and sitting on the grass and walled area outside the Italianesque Loggia, overlooking the River Mole.
The Crescent Building is sympathetically designed to provide all Prep School classrooms and a courtyard which provides access to the extensive Prep Library. Separate to the Crescent Building, is the Performance Hall and Music Rooms, where classical instruments are practised alongside musical creations using state of the art music technology. Drama is taught in the Performance Hall, with the latest production being Aladdin Jr, which was simultaneously performed by Years 4 and 5 and linked via Zoom to a socially distanced audience. Upstairs, are the impressive food tech kitchens (kindly donated by the Parents of Parkside), where culinary delights can often be smelt before they are tasted! Alongside the kitchens are the impressive and newly enhanced separate Science Labs where dissections, metal conductions and explosions are discovered during chemistry, physics and biology lessons.
Nursery children revel in their own space within the ground floor of the 'Barn'. This contains 4 separate classrooms, digital learning area, kitchens and offices. Nursery children also enjoy their own dedicated library as well as a fantastic Music Room fully equipped with tambourines and drums, triangles, xylophones and bells. Outside, there are 2 larger fenced off outdoor playgrounds for our Nursery children to enjoy play equipment. The Parent Toddler Group also have their own dedicated space in a separate building with 2 classrooms on the other side of the outdoor play area.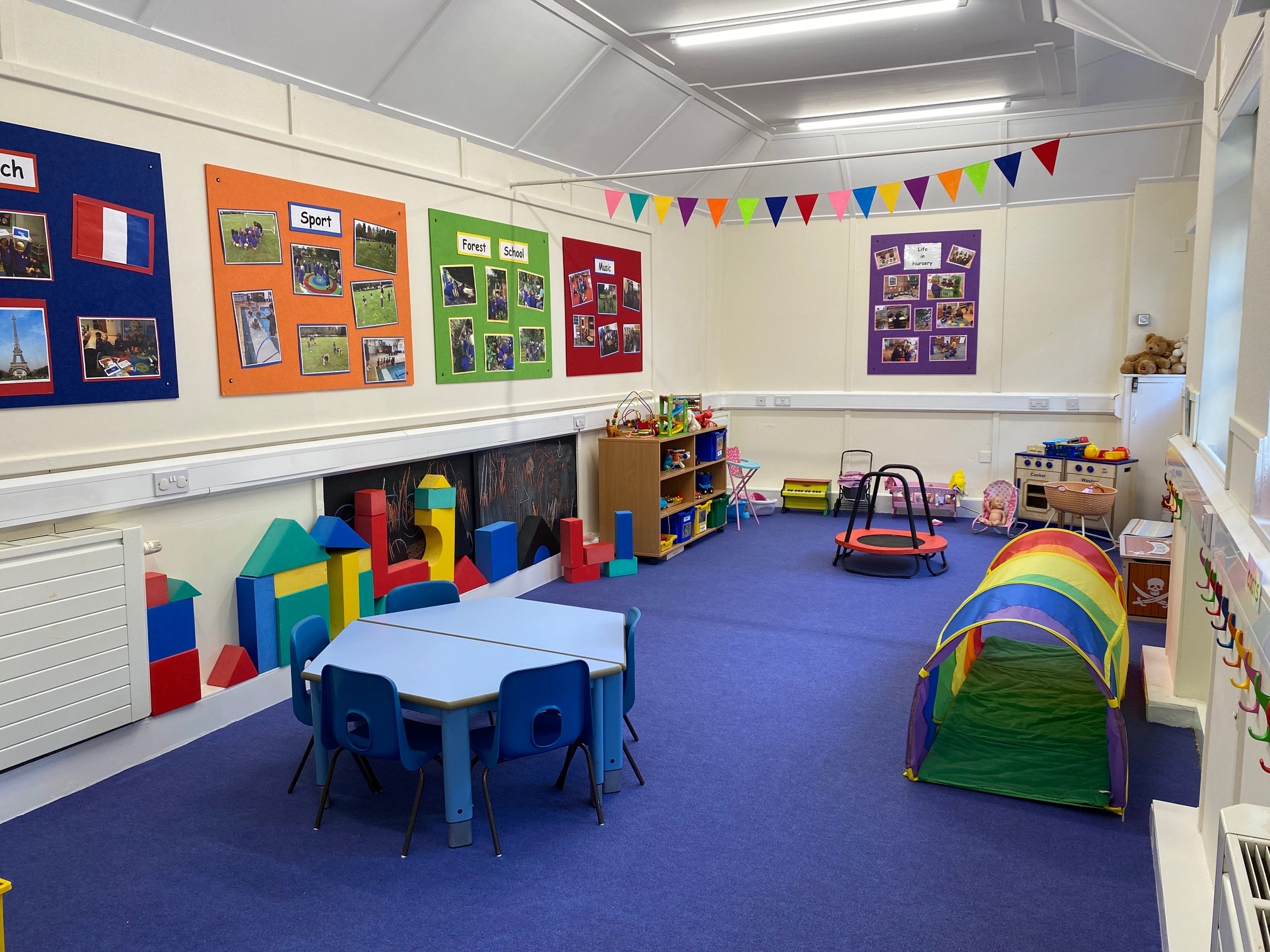 Upstairs in the Barn, the sounds of drills and hammers can be heard in the D&T Workshop, alongside the lilting sounds of Mozart being played in the STEM IT room during a coding session. The D&T Workshop has 4 fully functioning work benches where boys are encouraged to independently utilise electrical tools in order to build and create their own designs. The state-of-the-art STEM-IT room hosts a suite of technology including three 3D print machines where coding and technology is taught alongside the basics.